So'Pure Sophie the Giraffe Trio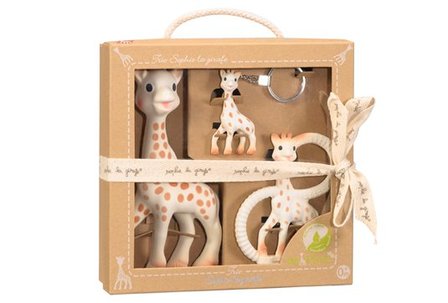 A perfect new baby gift!

Includes:

- Sophie la Girafe, baby's first toy in 100% natural rubber to stimulate all the senses.

- A teething ring in 100% natural rubber. Ideal to soothe painful gums, with multiple parts to chew (ears, horns, legs). Super Soft version.

- A Sophie la Girafe keyring in 100% natural rubber, so Mummy can have her very own effigy of Sophie la Girafe.

 
Made of 100% natural rubber.

A material that is healthy, natural, soft and supple, taken from the sap of the Hevea tree for a product that babies will love.


Lots of parts to nibble on (Sophie the Giraffe's ears and horns) for different sensations.

Ingenious: the inward curve adapts perfectly to babies' mouths or palates.  It has little ridges on one side to soothe the first teeth as they form, and on the other side, rounded little bumps to massage painful gums.