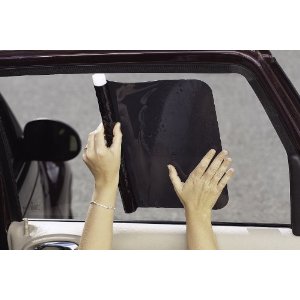 Wrapped around a foam core, Cool Shade rolls onto a window in seconds with no creases, for a smooth, wrinkle-free look. Providing year-round protection from the sun's glint and glare, it helps car windows filter both UVA and UVB rays for lower car temperature. Adheres by static cling. Removable and reusable.

Features:
- Car window shade
- Color: Black
- Tinted PVC with static cling to window with excellent visibility and clarity
- Shade is wrapped around foam cylinder so, no creases or wrinkles
- Unrolls easily
- Reusable and easily moved to another window
Two shades included per pack.