Adventure Banz Sunglasses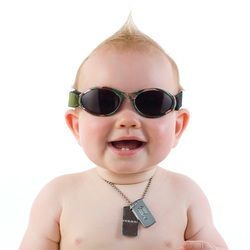 Adventure Banz are the premium range from Banz, the experts in children's eye protection.

We recommend Adventure Banz as the most suitable range for babies up to a year, as the soft silicone nose and brow piece makes them the most comfortable fit.

* Soft silicone nose and brow piece (same colour as sunglasses), designed for maximum comfort
* Category 3 lenses offer 100% UVA and UVB protection and high sun glare reduction
* Patented neoprene wraparound headband with Velcro adjustment keeps sunglasses in place and allows for growth
* Made of sturdy, shatter-resistant polycarbonate, of ophthalmic quality

Baby Banz will fit from approx 2 months to 2 years (up to 43cm).  Some babies under a year have found the Kids Banz a better fit.

Kids Banz will fit from approx 2-5 years (43cm to 53.5cm).