Bambino Mio Swim Nappy - Blue Tale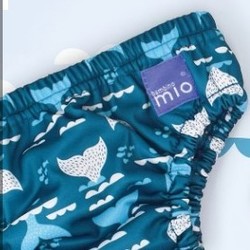 BAMBINO MIO swimwear is designed to offer you an alternative – it's two in one – both diapers and swimwear.

Features:

The NAPPY panties have an waterproof inner layer, elastic edges around the baby's legs and waist.
The cotton inside of the pants is soft and gentle, will not irritate even very sensitive baby skin.
Concealed water resistant layer and leak-proof legs offer containment when in water.
Made from lightweight fabric which won't weigh your baby down in the water like disposable nappies.
Machine washable and can be tumble dried.
With the Mio swim nappy no additional nappy is needed, it is waterproof to contain accidents (solids only). It is designed to preven leakages with leak proff legs and waistband. It is lightweight and comfortable on baby with an adjustable drawstring waistband. They have a super soft cotton blend inner and a polyester outer with a fun colourful pattern. There is a concealed waterproof layer.