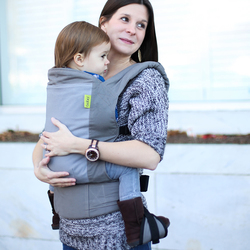 Boba: Baby Carrier – Dusk
The Original Soft-Structured Baby Carrier.
Designed to go and grow with you, the Boba Baby Carrier is ideal for kiddos ranging from 7 pounds (hi, baby) to 45 pounds (you're growing every day). This innovative and awesomely adjustable Boba exclusive is available in a range of colours and prints that both mums and dads will be proud to show off. Plus, the list of family-friendly features goes for miles. We're talking maximum comfort and convenience for both parent and newborn-to-toddler.
¥

Integrated infant insert to support the littlest little ones
¥

The perfect fit for both front and back carry
¥

Removable foot straps and sleeping hood customize the ride
¥

Purse strap holders—you're welcome, mums
¥

Pockets in all the right places
¥

Adjustable straps that help you find the right snugness
¥

Ergonomic support that never quits
Boba crafts the finest and funnest babywearing products available anywhere. Because like you, we want to go places as a family and in style. We want to grow together and experience all that life has to offer—step by unpredictable, unforgettable step. That's why we built a business on supporting the bond between baby and parent with baby carriers, baby wraps and accessories designed just the way you wish they'd be. So go ahead and wander. Today, the destination is anywhere.