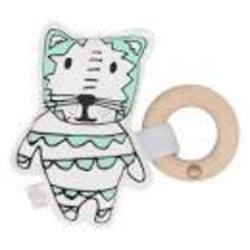 Kippins' Kiplet baby rattles are very Kippiny - perfect for little movers and shakers who love their Kippins! Each Kiplet baby rattle is designed to match their Kippin counterpart.
Baby will love to shake them to hear a soft rattling sound and have a chomp on the 100% natural and eco-friendly raw beechwood teething ring!
100% organic cotton, printed with water based inks and filled with 100% organic cotton, they're gentle on new skin and planet friendly.
Features of our Kiplets?
Hypoallergenic 100% organic cotton (including stuffing), printed with gentle water based inks.
Includes a detachable natural beech hardwood teething ring with wolf head logo from sustainably managed forests
Rattle insert creates soft sound when shaken
Designed in Australia and ethically made in India
Safety tested to European, Australian/NZ and USA safety standards from ages 0+