MiniJumbuk Dreamers Wool Rich Pillow for Kids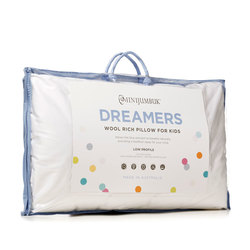 Low profile design for kids……..The wool rich filling in the Dreamers pillow is 350gsm, ideally suited for young children to give gentle support and comfort.
We have combined natural wool with spiral shaped man-made fibres to help the filling stay soft and springy and to gently support your child's head and neck. The cotton casing keeps the filling in and the dust out. It also allows the skin to breathe, keeping your child's face and head comfortable and dry ensuring a healthy night's sleep.
Great for allergy and asthma sufferers. 2 Year Guarantee.
Pillow Measurements
Standard  45cm x 70cm
Construction
Fill: 60% Australian Wool / 40% Polyester
Casing: Cotton
The wool fill in all MiniJumbuk products has been treated with Ultra-Fresh. This is an anti-bacterial treatment that provides lasting freshness and hygiene for effective limitation of dust mites. 
CARE & CLEANING:
DO NOT REMOVE FILLING TO CLEAN
(Zip is for manufacturing purposes only)
Warm (40°C) machine wash on wool cycle
Do not bleach
Normal spin
Dry naturally or tumble dry on low setting
Do not dry clean