My Cup Menstrual Cup - Size 2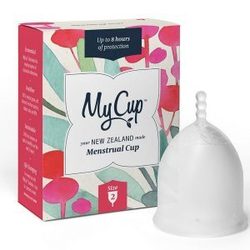 MyCup™ Menstrual Cup Size 2 is a beautiful cup designed for comfort and confidence!
Your MyCup™ comes in a beautiful box made from responsibly sourced cardboard, printed in vegetable inks. Included is an organic cotton storage bag and instructions for use printed on recycled paper.
MyCup™ Menstrual Cup is designed and manufactured in New Zealand. It is made from the highest quality medical grade silicone.
MyCup™ Menstrual Cup Size 2 is: Suited for people who may be over the age of 25 (Can be used by people younger than this by personal choice.)
Who may have had a child vaginally and who use regular and super tampons.
This cup is designed larger than most larger sized menstrual cups.