Lotus Pads Heavy 2 Pack - Pink Paisley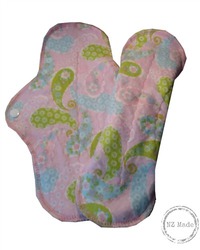 2 x heavy reusable menstrual pad is suitable for those heavy days or heavy nights.
Measures 10inch long x 2.5-3inch wide. It has a 2 snap setting to adjust the width.
Pad is made with brushed cotton top layer, bamboo terry inner and waterproof pul backing. Please note the variation of the print will vary.
Our handmade reusable menstrual cloth pads are environmentally friendly, user-friendly and they are available in different styles to suit your flow. Made with high quality, highly absorbent and breathable fabrics, our lady pads are convenient, comfortable and cost-effective.
Check out these benefits of making the switch to reusable menstrual pads:
Reusable
Washable
Environmentally Friendly
Easy to Wash and Dry
Cost Effective
Comfortable and Trim
Absorbent core
Leak resistant backing
Proudly made in New Zealand.