Lotus Pads Medium Contour 2 Pack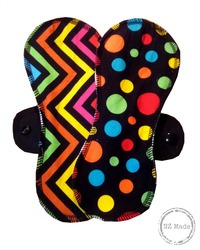 2 x Contour Medium lady cloth pad suitable for medium flow or moderate incontinence. 
Measures 8.5 inch long x 2.5 inch wide
The contour medium reusable lady cloth pad is made with 100% cotton top layer, bamboo terry inner and waterproof pul backing. Please note the variation of the print will vary.
Our handmade reusable menstrual cloth pads are environmentally friendly, user-friendly and they are available in different styles to suit your flow. Made with high quality, highly absorbent and breathable fabrics, our lady pads are convenient, comfortable and cost-effective.
Check out these benefits of making the switch to reusable menstrual pads:
Reusable
Washable
Environmentally Friendly
Easy to Wash and Dry
Cost Effective
Comfortable and Trim
Absorbent core
Leak resistant backing
Proudly made in New Zealand.