Merino Kids Go Go Bag - Duvet Weight - AORAKI Green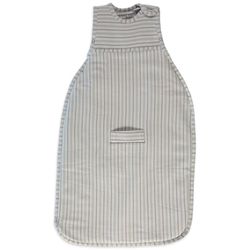 For those cooler evenings, you might want to consider our Duvet Weight Go Go Bag™ to keep your child snug and warm. With pure merino wool on the inside and a double layering of fine, organic cotton on the outside, the Duvet Weight baby and toddler sleep bag is suitable for room temperatures between 15° and 20°C.
The Merino Kids™ Go Go Bag™ is an award-winning, 100% natural sleeping bag that helps prevent your baby waking in the night! It is amazingly practical and has been designed with your child's comfort and safety in mind. It has been proven that merino is the best material for children to sleep in or on.
merino's unparalleled ability to "breathe" means it helps regulate your child's temperature. So use it without the risk of overheating.
No need to use sheets or blankets which can disturb a child's sleep when it wriggles free or gets tangled up. Your child will WAKE LESS inside the safety of the Go Go Bag™ but it can still kick and move around naturally. Simply add clothing layers within the bag for extra warmth if required.
Babies associate the bag with sleep and will settle more easily in unfamiliar surroundings.
The merino Kids™ Go Go Bag™ has a CLEVER DESIGNand is suitable from Newborn through to 2 years old and in a larger size from 2 to 4 years old.

Simply close the armhole poppers to adjust the sizing for smaller children – this stops them from sliding down into the bag.
Shoulder poppers and a full length zip along the bag allow the Go Go Bag™ to be opened out completely flat for nappy changes.
A zip flap cover keeps the zip end away from skin and makes it more difficult for little fingers to undo.
The bottom half is generously sized to allow freedom of movement.
The Go Go Bag™ can be taken anywhere with its unique safety belt aperture – simply transfer your child from car seat or buggy straight into their cot or bed.

We only use 100% natural fibres – superfine merino wool on the inside and 100% organic cotton on the outside (for durability).
Our merino is superfine, luxuriously SOFT, LIGHT, non-itchy and hypoallergenic, helping kids with sensitive skin & eczema problems. Its ability to readily release moisture means NO CLAMMINESS next to the skin, creating a perfect micro-climate around the body.
The material also retains LESS ODOUR and nasty smells, reducing the need for frequent washing, and kinder on the Go Go Bag™ and the environment. When washing is required, it is machine washable on a wool cycle only, maximum 30°C. We also recommend using a non-bio detergent. Hang dry.
LOW FIRE RISK. Wool is the least flammable of fibres, and the safest to have next to your body. It is naturally self-extinguishing and, unlike synthetics, it won't melt and stick to your skin. The Go Go Bag™ has passed rigorous fire safety testing.
The Duvet Weight Go Go Bag™ has the following composition:
One layer 100% superfine merino (200gsm) – lining
One layer organic Indian cotton fleece (360gsm) – outer
Designed for room temperatures between 15 and 20°C (59-68°F) | tog range 1.4 to 2.3.
Ideal for year round use – except high summer. Adjust clothing layers to suit bedroom temperature.