150ml Silicone Breast Pump and Stopper Combo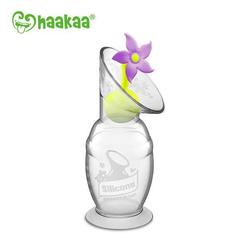 You can now get our famous Haakaa breast pump and silicone flower stopper as a combo!
This little stopper sits tight in the neck of your breast pump and will stop any spills or accidents. Made from 100% silicone and available in four colours your breast pump is now not only suctioned to the table with your new suction base but also protected from spills and contamination with our flower stopper!
In this pack you will receive 1x flower stopper of your choice and 1x 150ml silicone breast pump - The perfect addition to your breast feeding journey!
Although working in the same way our new pump has a few added features to make your life that little bit easier. With an increased volume and a suction base for support our new and improved breast pump is the easiest and most simple way to express. 
Made from 100% food grade silicone, this compact pump is perfect for long distance trips, planes, car rides, family BBQ's or anywhere you would like to discretely express silently and quickly. Simply suction to your breast and let the pump do the work for you as it draws your milk using suction. 100% eco-friendly and safe for mum, baby and our environment.
Perfect for traveling.
Especially soft and comfortable - made from 100% food grade silicone.
Fits perfectly into any handbag or baby bag.
Dishwasher safe - also can be sterilised and left to sit in boiling water.
Easy to use, easy to clean.
BPA, PVC and Phthalate free.
Compatible with all Haakaa wild neck bottles.
No cords, batteries or assembly required. 
Includes 1x stopper.
Suction base ensuring your pump will not fall over meaning no spills!
How to use your breast pump:
Sterilise your pump (caps are available online to purchase – caps keep the pump sterile after cleaning)
Place top of pump over your nipple – make sure your nipple is in the neck of the pump and comfortable.
Apply suction – you may need to adjust a couple of times. Once the pump is secure and comfortable you can squeeze the base of the pump (not interfering with the top/suction) to create some movement.
A warm flannel on top of your breast is also a great tip and gently massage the top of your breast.
Once milk begins to flow simply leave the pump alone to do its thing.
Once the pump becomes full empty into a glass storage bottle and reposition.
If the pump is full or you wish to stop pumping – simply suction the suction base to the table next to you while you finish your feed or re dress and the pump is 100% secure.
Also attach in the same way while your child is feeding on your other breast and collect all let down and milk which would other wise be lost into a breast pad.
Waking up in the middle of the night or if engorged during the day also attach your pump for relief.
Clean after each use. This product can be sterilised with any steam sterilising system or boiling water.

No bleach based agents.