Lunette Menstrual Cup - Coral - Size 1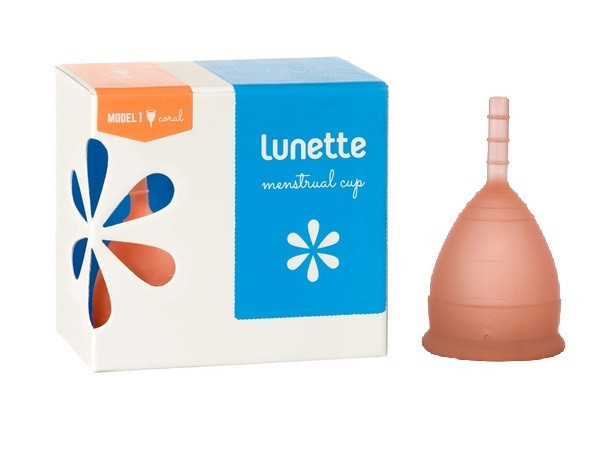 The Lunette Menstrual Cup
The Lunette menstrual cup is the future of period care. It's your user-friendly, safe, reusable, and eco-logical alternative to pads and tampons. Plus, using Lunette helps you rack up good karma points by protecting the environment and your purse strings offering peace of mind and a stress free cycle.
You're all set with Lunette: just fold, insert like a tampon, and let it do its thing. Lunette collects fluids rather than absorbing them, keeping your superior interior naturally lubricated and healthy. You empty it rather than change it, wash it, and reuse it. You never 'run out of Lunette' (like tampons) because it runs around with you: in a pretty, convenient pouch (in case you're early) or in you, during your cycle. Relax, with Lunette, you can lose the leaks, and live your life.
Welcome to the perfect period…
The Lunette menstrual cup is:
made of medical-grade silicone in Finland
odorless, safe, and doesn't contain rubber latex
affordable and eco-logical — good for you, your purse, and the planet — with proper care Lunette will love you for years
a sanitary and healthy alternative to disposable tampons and pads
easy-to-use, practical, and comfortable. It needs to be emptied only two to four times a day, and can be used overnight
you can wear the cup when anticipating your period. With tampons, you risk dryness and irritation.
safe: not conducive to dampness, outbreaks of vaginal candidiasis or cystitis
your perfect teammate: wear during sports and other physical activities
designed for all ages and sizes
designed for those who have not yet engaged in sexual intercourse as well as those who use an IUD or contraceptive ring. If you are planning on using Lunette together with an IUD, we recommend discussing it with your doctor
enables you to monitor your flow by providing measuring lines on the inside of the cup (5 ml and 13.5 ml in size 1, 7.5 ml and 15 ml in size 2). The lining of the cup is totally smooth and the tab is flat, making cleaning very easy
not to be used during post-natal bleeding due to the risk of inflammation
not disruptive to the natural lubricating ability of the vagina, nor does it dry out the vaginal mucous membrane as tampons do
Why use Lunette?
Lunette liberates you from uncomfortable, bulky pads and different sized tampons is a healthy, easy-to-use alternative
Lunette can handle whatever Mother Nature's got in store for you, from light, medium to heavy flow
Lunette is user friendly and travels with you, or in you — so you'll never 'run out' of protection, (or have your protection 'run out' on you!).
Easy
The Lunette menstrual cup is as easy-to-use as a non-applicator tampon: simply fold and insert.
Lunette is small but mighty: it can hold much more liquid than a tampon, it only needs to be emptied 2 to 4 times per day during normal flow, so you can take care of business on your schedule.
---
Hygienic & Safe
Tampons aren't your friend: fibers can be caught in the vaginal canal, 'over-absorb' precious vaginal fluids, and dry out the mucous membrane.
Pads aren't much better: they create a stifling, moist environment — ground zero for yeast infections, bacteria and odor.
Lunette is your periods' super heroine (and here to protect you): it doesn't disrupt the vaginas lubricating ability, or interfere with the natural process of shedding menstrual blood, dead cells, and bacteria.
Stop the Cash Leak
On average between $48–$84 per year are spend on disposable tampons and pads.
The Lunette is a one-time cost that will last for years, and put the money you save right back into your purse.
Eco-Heroine
Lunette is eco-logical — with tender, loving care, it will last for years.
Saving the planet while saving money is now something to celebrate every month (and is sure to make you less irritable!).
Lose the monthly protection purchase, plastic applicators, wrappers, and bio-waste from used tampons and pads and free up your 'footprint.'
Lunette was built with an eco-minded soul: from the recycled box and enclosed informational material, to the environmentally friendly factory that makes it in Finland — Lunette is an eco-heroine!
Designed with You in Mind
The lining of the Lunette menstrual cup is smooth which makes cleaning a snap.
Because the tab of the Lunette menstrual cup is flat, it doesn't collect bacteria. You can disinfect the cup by boiling it briefly in water, using the Lunette disinfecting wipes, or rubbing alcohol.
Lifestyle Friendly
Give up nothing with Lunette — it can be worn during sports and other physical activities, just like a tampon, but with no strings attached!
Sleep nude (and no one will be the wiser), no peek-a-boo strings at the beach (unless it's your string bikini).