Nature Baby Orthodontic Pacifier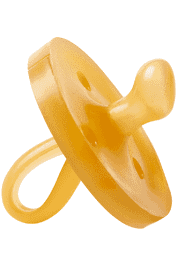 The Hevea pacifier gives you a healthy and stylish alternative for baby to use than the thumb. Made from 100% natural rubber, it's soft and gentle on baby's face and prevents vacuum rashes around the mouth. It's very hygienic one-piece design has no perforations, hence bacteria cannot accumulate and hide in perforations and joints.

The pacifier is ergonomically butterfly shaped, with space for nose and chin. The 4 ventilation holes are shaped as stars & moons.

NATURAL RUBBER Hevea pacifiers, teether and bath toys are made of 100% natural rubber, which is a natural sap coming from the rubber tree. As it is a natural material, it can vary in colour and shape. Also as it is biodegradable, it needs to stay of out sunlight and moist environments to prolong its lifespan.