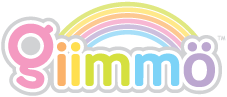 I can remember being quite petrified of the dark myself, although I have always tried to shrug off my 4 year old daughter's comments of being scared of the dark. Quite mean really since in the back of my mind I truely believe that she is scared as I remember the feeling so vividly and truthfully, I don't think I got over being scared of the dark until I was about 21!
So for the past fortnight she has been talking about a 'lion shadow' in her room. She can show me exactly where it is, I can't see it and I can't make any sense of it for her (like perhaps its the hydrangeas outside her bedroom window or the awning over her window). It just hasn't worked. She had even started coming to sleep in our bed a few nights in a row which is very out of character for her! So in a moment of feeling kind and really feeling her pain I decided that it was time to let her have a Giimmo Night Light for herself.
Now, I knew these were great little night lights but sometimes you just don't realise HOW great something is until you are using it yourself! The Giimmo Night Lights come so many cute characters (our 4 year old and 2 year old share a room so they had to choose one together and big sister REALLY wanted 'Indigo' the Hedgehog but settled on 'Stego' the Dinosaur to please her little brother! So sweet!), they have a soft glow flowing through different colours and can either just be on constantly OR have them on a tapping sensor! That is my favourite feature I've decided! So you can put the Giimmo Night Light next your child's bed where they can reach it and if they wake in the night when it is off, all they need to do is pick it up and tap it back down on the surface for it to come on! Easy peasy and perfect for little ones!
I've taken a little vid of it in case you don't believe how super cool it is!
So if you have a little one that's frightened of the dark and are feeling a little bit kind too, you know where you can get one of these cuties! Other characters can be ordered in too so don't be afraid to ask if there is a particular one you want!
And while we're on the topic... What tips do you have for helping your children get over their fear of the dark? Or is that asking too much of a child to get over the fear of the dark?!