Well, here we have it! The first blog post... Now what to write...
I suppose I'll start off the blog with an introduction of myself and our business.
I'm Jacquie, Australian born to Kiwi parents, a wife of 8 years having married my husband at 19 (do the math and you can work out how old I am!), mother of 3 children (nearly 5 year old daughter, nearly 3 year old son and 15 week old daughter), and perhaps a littly crazy to also be self employed from home in Gisborne for not only one business, but TWO! Any mother knows how busy your day can be let alone throwing in 'actual work' (yes, I know, managing a family and home is alot of work to juggle by itself!). I guess I do this because I love to do it and to me, most of the time it just doesn't feel like work, although on the odd occassion I do envy those who truely are a 'stay at home mum'! I like to think that what I do through Cheeky Cherubs is helping people and even has ripple effects of helping our environment. My children do get involved where they can too which is good fun. My cousin, Lara, comes to help me out at least once a week now too. After taking her on just before we had our 3rd baby for what was meant to be only for 3 months, I fast realised that it was important for me to keep her on to keep some sanity about the place! (And here is a pic I took of her working with her 1 year old son in arms and my older two trying to play as I sat on the couch feeding the baby! I thought it looked quite entertaining! It doesn't always look like this though. We actually normally work with just the baby around while the children are at daycare/preschool!)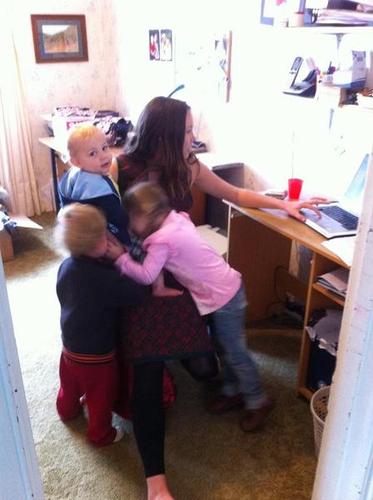 Cheeky Cherubs was 'born' in July 2009 when I was just about 8 months pregnant with my son. I had really struggled to find cloth nappies that worked for my first child. I had bought second hand ones and really, they probably just weren't looked after as they should have been or were just extremely old because they leaked badly PLUS my daughter rashed very badly from the microfleece lining which I found out later does happen to some children. Anywho, that was enough to put us off which I was quite disappointed about. It took getting pregnant again and realising that I'd have at least another two years of buying disposables in bulk, plus buying for my eldest child still as well as a new born, that I decided to give cloth nappies a go again. I found Pop In Nappies and liked the look of them with their double gusset leg, being one size was attractive to me (so I wouldn't have to buy different sizes) and they had the option of using a Dri Night Booster through the night. I bought one with the night booster, NEW, and trialled it for a week overnight with no leaks so knew I had found a nappy that would work for our family both day and night! And that was it. I became so passionate about cloth nappies, partly because I was so gutted I'd missed out on using them right from the start, that I just had to start selling them!
Gisborne didn't have anywhere that you could go and see cloth nappies in person and online can be a little confusing to say the least! I had spent a few years working in the in Infantswear/Nursery department at Farmers and so many pregnant mums would come to have a look and then say 'Oh well, we'll have to do our trip out of town now to get the rest of the stuff we need'... So with that in mind, we've expanded our range at Cheeky Cherubs to include alot of the items that we can't find elsewhere in Gisborne and presumably may be hard to find in other smaller cities throughout NZ.
NZ Baby Supplies Ltd is our 'other' business which is the distribution side of things for the brands GroVia and Close (Pop In & Caboo Carriers) as they fast became my favourites. (Keep in mind here that everyone has different favourites and what suits my family/baby may not be the perfect solution for yours! HENCE the massive amount of choice available for cloth nappies! And it's for this exact reason that we now stock over 16 cloth nappy options at Cheeky Cherubs - so we can help you find the one that IS perfect for your family!). I'm really passionate about growing these brands within NZ and would love to see other shops stocking them throughout the country so if you know of a good one that might like to stock them please let me know! We have a separate Facebook page for this business here.
Well, I think I should wrap up this first lot of rambling. Most of you probably stopped reading after the first paragraph! Hopefully on occassion you will find something interesting here. If you have something specific that you would like me to address in a blog post please let me know and as always, if you have any questions about any of our products please don't hesitate to be in contact. I'm more than happy to help out between feeding the baby, packing orders and trying to do my housework! hehe
xx Jacquie xx